Locations can be used to separate large area into smaller zones, which can be used independently of each other.
Each location can have separate:
Events
Users
Access Levels
Doors
Operators
Inputs
Outputs
Groups (ASB Musdo areas)
Cameras
The rest of entities such as Devices are global and do not belong to any location.
In example, you can create user and assign him into single or multiple locations and operator who will manage said location. He will only see location that he has right to.
When multiple locations are created, you will see a location switch in the right top corner to switch between locations and manage separate view elements assigned to it, i.e events.

Currently input and output can be assigned only to a single location.
System configuration consists of 4 locations with one HID VertX V1000 device coupled with three v100 reader modules for each location door and single HID Aero device for elevator access.
System has 3 operators:
Building administrator has access to locations 1,2,3 and 4
"Location 1" operator has access only to "Location 1"
"Location 2" operator has access only to "Location 2"
Requirements:
"Location 3" is defined as "inside" zone, where every user can enter..
Users of "Location 1" should access locations 1,3 and 4.
Users of "location 2" should access locations 2 and 3.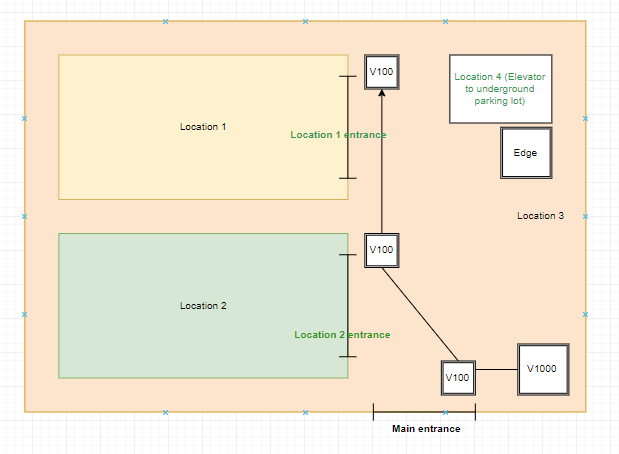 Building operator adds devices, creates doors and assigns them to appropriate locations. Users and operators are also assigned to corresponding locations.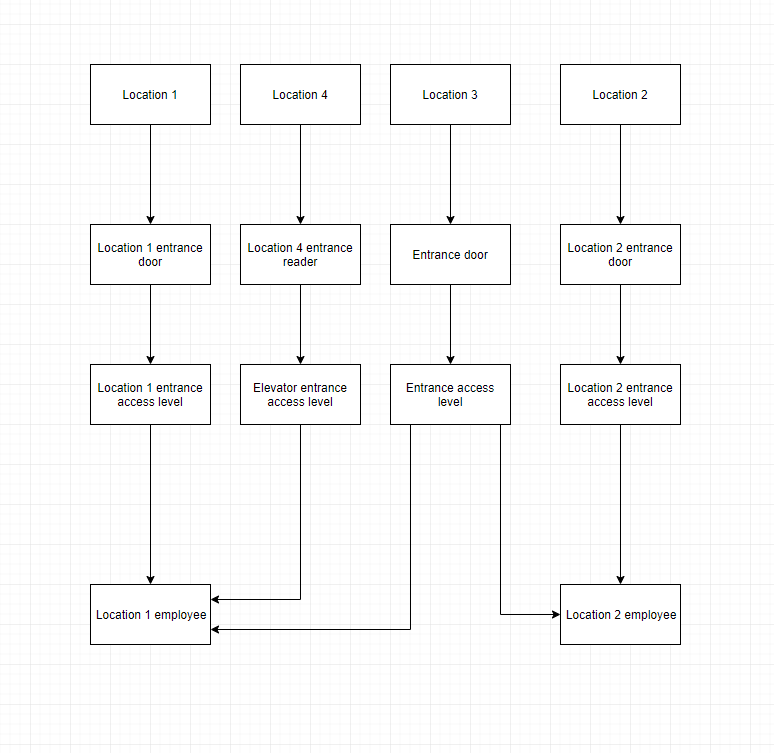 Constraints:
Main location name cannot be changed.
Access level can consist only doors from a single location.
Security panels, video server related entities (inputs, outputs etc.), doors and users have location assigned per entity.
Operator can only manage/view entities (event,users etc.) that belong to his location(s).
In case of this configuraiton building administrator will be responsible for assigning access of location 3 (and location 4 in case of location) to location 1 and 2 users.