This sections covers ASB Security Musdo areas.
Before using this functionality, devices must be configured with "ASB Security" provided tools.
Groups are used for ASB Security Musdo security panels to monitor and control configured areas and inputs.
Groups will be automaticaly populated, when Musdo device is added to the system.

Arm - arms areas, if inputs assigned to that area are in secure or bypassed state.
Disarm - disarms the area regardless of area state.
In Status column you can see current state of the area.
| Area state | Description |
| --- | --- |
| Disarmed | Area is disarmed. Input triggers are ignored. |
| Armed | Area is armed and in secure state. |
| Exiting Area | Area is in exiting state. During exit period input triggers are ignored. |
| Alarm | Area is in alarm state, triggered by input. |
Clicking on any of the available groups will open group details on the right side of the page.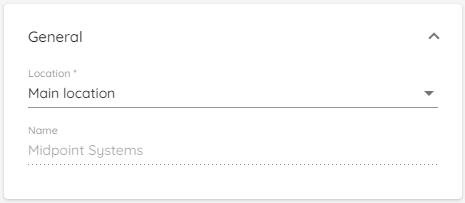 Group location can be changed in "General" section. Changing group location also changes all of the assigned inputs location.
"Inputs" sections shows all inputs that are assigned to a selected group and their statuses, clicking on any of the inputs will open inputs page with details of selected input.